Marketing Research Options Finance Behavior Buyers Interdisciplinary Co-operatives Strategy Business Psychology Futures Decision Making Under Risk Marketing Channels PR-Marketing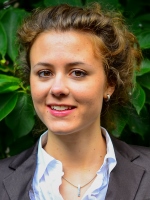 Dr. Simone Wies
Post-Doc Researcher
Simone Wies is a Post-Doc researcher at Duke University, North Carolina, US. She holds a BSc, MSc, and PhD degree from Maastricht University. Her research deals with the interaction of capital markets and managerial decision-making. In her work, she investigates how marketing investments, such as product innovations or advertising investments, affect and are affected by capital markets and investor behavior.
Research Interests
Marketing-finance interface, spillover effects, marketing investments, capital market impact
Recent Key Publications
Moorman, C., S. Wies, N. Mizik & F. J. Spencer (2012). "Firm innovation and the ratchet effect among consumer packaged goods firms." Accepted for publication in Marketing Science, forthcoming.
Hoffmann, A. O. I., A. Tutic & S. Wies (2011). "The Role of Educational Diversity in Investor Relations." Corporate Communications: An International Journal, 16 (4), 311-327.
Hoffmann, A. O., J. M. E. Pennings & S. Wies (2011). "Relationship Marketing's Role in Managing the Firm-Investor Dyad". Journal of Business Research,64(8), 896-903.